A Girl's Dream Come True. Interview with Fatima Sharaf, head and founder of the Hello Kitty Spa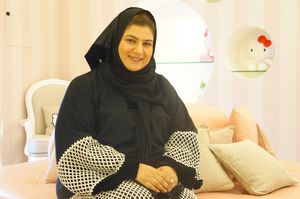 Sitting in the lounge area of the Hello Kitty Beauty Spa, a false airs "boudoir" Marie-Antoinette style beauty salon, founder and MG Fatima Sharaf tells about this first and unique concept. She says how she came up with this original idea which never ceases to seduce little princesses and their mummies and talks about her family who created and developped the Sharaf Group, a reknown name in Dubai. INTERVIEW.
How did you come up with the idea of a Hello Kitty Spa, a girl's dream?
I had this idea for a long time. I went to see my brother Yasser, head of Sharaf Retail, with the idea of a spa for kids and he said «yes it is a good idea» but that was it. A few months later, he came back to me and said «I took your idea and played with it. Now I want the same idea but with the Hello Kitty brand». He wanted to take Hello Kitty a bit further than retail. We merged the two ideas together and Hello Kitty Beauty Spa was born.
This is the first and unique in the world?
Yes and we got the licence from Sanio Japan to go global. If anybody in the world wants to open a Hello Kitty Beauty Spa, they have to come to us.
How is business going?
It is working phenomenal. I really did not think it would go like this. But at the same time if you look around the world, there is a big come back for Hello Kitty.
It activates this nostalgia feeling and it is trendy at the same time?
Exactly. It takes us back to our childhood, for us adults. And for the kids, nowadays they like it too.
It is Japanese kawaii?
Yes, exactly, cuteness.
What is your public?
Mainly children. Here we call them Princesses. We have young ones as young as one year old. We give them their first hair cut with a certificate with a lock of hair. We use pure products which are all safe. We have organic nailpolish. It is a safelty policy. We have Hello Kitty ones but also the regular OPI and Essie's. The girls like it because they want to be treated like adults. They want to be like their mothers (ndlr: The Queens) so they sit in the same seats as their mothers. The princesses get to choose their scrub and sanitazing balls. We dont file their nails but we scrub and pamper.
I was told that you insisted on learning the business from bottom to end. You even trained hard with a French hairdresser, Sandrine Bertrand?
She gave a hell of a time! She made me shampoo, shampoo, and shampoo. I did it for a whole month almost everyday. Very long hours. You would be very surprised: I have some staff with 15 years of experience but shampoo is a very important thing. The position, the pressure, there should be a certain connection with your client even if its shampoo. People think its just a shampoo but its not. And I dont want my staff to do something that I don't know about. If you're mixing color, I have to know how you mix it. If you're cutting hair, I have to see that you are doing it the right way. If you're doing something with the curly iron, I have to see that you are doing it right. Especially when children are involved. And the most important thing here: I wanted all the staff to know how to treat a princess. I had a problem with my daughter growing up. There were salon either for the kiddie kiddie ones and they did not know about style or they were for adults and they did not know how to handle children.
So you have one daughter?
Yes, she is ten now.
She was also an inspiration for the Spa?
Yes, she was always giving me ideas. Every time she comes here she has remarks. «Mama customer was not very happy. You should go and tell her...» And she always wants to help here. And she comes up with ideas. Look our logo: as our tables and mirrors are oval, she said «why don't we have that shape for the logo?» And I spoke about it to the graphic designer. The hair bowl used to be very small? «Mama girls like them big»...
So she is your marker researcher?
Kind of! She would help a lot. Her name is Rhoda meaning garden and heaven in arabic.
Can you tell me more about your family?
My grandparents both paternal and maternal were traders like all Dubai people. The Sharaf Group started with two brothers, almost 40 years ago. My father Sharafuddin Sharaf and my uncle Ibrahim. They started in shipping in the 70's and real state and slowly retail and now we have 60 companies and more than 5000 employees around the world.
What were the values transmitted to you?
I learnt it from my dad: the customer's always right. If customers aren't happy, then there is no business. This is what I tell all my staff. I will make you happy. You will not leave until you are happy.
Your recieved a business oriented education?
Always thinking business. Whenever travelling or going anywhere, my dad was always talking about all sorts of businesses or looking for opportunities. There is never enough and always something new.
What is your curriculum?
I studied linguistics at King Saud University in Saudi Arabia. When I came back I joined the Sharaf group and they were opening the first retail store ever in 1985. They were in the business for 30 years but never in retail. Their main business was shipping, real estate. I started with them from scratch in the marketing department like any other staff. I had no experience and my father wanted me to start from the bottom.
This is part of the family business philosophy?
Since we were kids, school holidays did not mean school holidays. We spent a month of work going to the office and learn things. Then only could we go on holiday. For a few years, I worked there until I got married and had my daughter. I stopped to be with her at home but, while there, I did some personal businesses. In between, I was also an English teacher at Sara School in Rashadie. I loved the teaching but after two years I wanted to spend more time and make my daughter ready for school. I did my own fashion design business and shop. Then I went back to Sharaf Group again when she started school.
What did you learn from studying abroad?
To study abroad -I did a BA in Saudi Arabia- taught me to be independent. I was 17 years old. It is a hard country to live in, very different from Dubai. At that time it was a men's world. Nowadays it is different. Here you did not have to cover, it is all by choice. There you were forced. Now it is different than when I was there.
Why do you choose to cover?
I cover because it makes life easier. You dont have to think about what you are going to wear. And it is part of our identity, our religion. It keeps you modest as well. And on a men's perspective, it is showing respect for your family. For me it is also a way of not caring about what people think of me. As a family we are quite conservative, traditional. At puberty, you wear your sheila and habaya and during parties we don't sit together. This is how it is.
You have a beautiful original habaya?
Thank you. I design my own habayas. I see materials, I set it, develop it.
Did you have a «princess» dream?
I wanted to be a fashion designer which I was for a while. I wanted to study it but at that time in Dubai my teachers in school and my parents were not really fond of the idea. They said «have a good proper degree and do that on the side. If you have a talent you don't really need to study it». And I really believe in that. With the distance I believe they were right.
Did you like Hello Kitty as a little girl?
There was a shop at Al Gurair Mall in Deira. It was one of the biggest mall at that time. Every Eid we received a little bit of money, and pfff, we would go to Hello Kitty. The shop was called My Melody. I loved their rubbers. They were scented and I got crazy for them and its funny because my daughter collects these rubbers. Everybody in Dubai loved Hello Kitty.
How was it back then?
We used to play a lot outdoors. It was very safe the doors were always open. We were always outside on the sand, on bycicles.
Did you live in the desert?
Dubai was a desert. We always lived in Jumeirah. You know everybody lived in Deira or Bur Dubai at the time and they thought it was so far. Its outisde in the sand. In JBR area there was no buildings only The Méridien. They used to say, you can't go there its too far in the desert. But we lived in concrete with water electricity and all. Although we went to the desert a lot and we still do. When it rains, all the locals, they get in their cars and go to the desert. Because as we don't see a lot of rain, we want to enjoy it. We go to the desert as often as we can. It is nostalgia again.
What do you think about Dubai today?
I am proud of what Dubai has become. It is a bit fast for me. We all look up to Sheikh Mohammed. We all learn from him. When he says «Nothing's impossible», I believe that. I also like the old Dubai. I feel it went too fast. I like it but maybe it goes too fast. It is amazing but for us to grasp what happened... You cannot do a city like this in such a short period of time. Nobody does: it is amazing. Opportunity comes only once. This is a lesson right in front of us. Take it and then think!
How do you preserve your culture?
It is in our nature this closeness and knowing each other and the hospitality part and all that brings you together all the time and we are all one family, al the locals, and when expats are coming we treat them as we treat each other. Preserving this heritage or our culture. Everthing is going on smoothly. Despite all this modernisation, you can see us all connected and attached to our culture and our beliefs. And this is also a big part of our religion. Our religion teaches us to do this. We are good believers in our religion so that is also how we preserve our culture. We also teach this to our children. In return the children see how we react and how we live. It is a circle. They will be doing the same with their children.
As a business women, how do you find the time to transmit all that to your child? You teach her Arabic?
Oh yes she speaks arabic, English and French. I learnt it also at school. Languages should not be a barrier. As Dubai is an international city with all these cultures this is an opportunity to know about everybody else. everybody is here. In my daughter's class, she has got different cultures and nationalities and she gets to learn about them. Recently, they have been celebrating Diwali from the Indian culture. So they know about it from each other in class. I believe you should know about religions and cultures from people around you. It is nice to have knowledge it won't harm you. I like that. We can all live together and know about each other.
There is a feeling of hospitality here in the Spa?
We have like a sitting area. It is like a salon. I need people to come and sit and watch TV and hang out not have a service. It is very cosy, laid back like at home. After you had a service you can stay here as long as you want. We have karaoke. Kids come and sing. That hospitality is very important also. You need to be comfortable, happy, relax in a nice environment and safe. It is always about customer satisfaction.
What is your next project?
We are working on developping the franchise at the moment. It will be ready in the next few months. We are taking two new locations in Abu Dhabi. We were approached by House of Frazer in Abu Dhabi and by the Abu Dhabi Mall. We are also introducing a lot of new things like massages etc. I did a lot of research but we are learning in the process.
Is it going quickly?
Not as fast I want. I dont have patience. I am ambitious.
Do you work with your brother Yasser Sharaf (Managing Director of Sharaf Retail)?
Yes hands in hands. He asks me for advice and I do too. I am the eldest.
Any other projects?
Sanio was so happy with the Hello Kitty Spa that they have decided to open a cafe. We are working on it right now. I am just looking for the perfect location.
Which would be?
Ideally? In front of the fountains at Dubai Mall! I want more of a tourist location.
For more info:
http://hellokittybeautyspa.com/home.php
To book:
Town Center, Dubai
+971 4 344 9598
bookings@hellokittybeautyspa.com
Open every day from 10am to 9pm
The Sharaf Group
Sharaf Group is one of UAE's largest and most respected business conglomerates. It comprises of over 60 operating companies in more than 6 business sectors: Information Technology; Shipping; Retail; Real Estate; Financial Services; Consumer Products; Travel and Tourism; and Construction. The Group was founded by two enterprising brothers, Ibrahim Sharaf and Sharaffudin Sharaf, of U.A.E origin during the last quarter of the 20th century.
Sharaf Group companies together employ over 2,500 people. Among the group's registered enterprises, names that standout are- Sharaf Shipping Agency, Sharaf Industries, Sharaf Travels, Sharaf Enterprises, Sharaf Group Retail Division, Sharaf Design and Information Dynamics — these have a wide presence in and around Gulf countries. The Group has experienced the sustained growth for years since its inception (1976) among other Arab business houses in the private sector. The Sharaf Group operates in more than 20 countries across the world.
Info from: http://www.sharafs.ae/