Green Fingers' Kamelia Zaal: « Everything we do is from a passion of ours »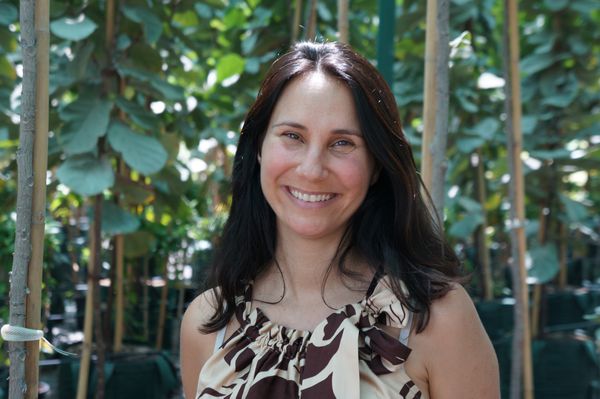 Landscaping Designer Kamelia Zaal talks about her job, environmental action and concerns, her « forward » family and how she wishes locals and foreigners mixed more. INTERVIEW.
KAMELIA BIN ZAAL is the daughter of Mohammed Zaal, the passionate founder of Al Barari, an esteemed and visionary Emirati businessman who boasts the most exclusive state of the art residential resort in Dubai. After sharing a freshly squeezed juice at the terrace of The Farm, the lovely and lush quarter's restaurant, Kamelia drives me around the plant nursery showing all the species they grow and the largest compost plant of the country. We talk about the properties of certain trees and their particularities. Before letting her go back to her two months old baby boy, I take a picture of her in the middle of the greenhouse, and it strikes me that this plant lover is named after a flower. « Yes, she says laughing, I don't know if I was named after my father's first love or after a flower. » But it is indeed a providential surname. And Kamelia leaves as simply as she came. No make up, no chichi, no high heels or fancy dress, as natural as her passion for garden design. Second Nature is indeed the proper name for her company.
How did you start your career ?
I learnt as I grew. A lot of landscape architects sit behind a desk and don't get into their projects enough. They do the drawings but the practicalities of in sites issues, handling the developpers and project managing is an entirely different thing. I have done all of the above. I used to do a turn key. When I grew and I set up the landscape practice we were working specifically on Al Barari. We grew from Al Barari. Obviously there I had a full team of engineers (irrigation, lighting, landscape architects). It was an amazing thing to watch.
How did all this happen, it was an empty land basically ?
The concept was a vision of my father. He loves greenery, plants. Whenever we travel we always go see a nursery, buy plants, bring them back. It's always been part of our lives. Ever since we were little, Dad has been in the garden.
Does it come from the fact that you come from a desert country ?
You will find a lot of locals from the UAE genuinely love plants and I think it comes from the lack of plants and growing their own vegetables and date farming. All this cultivation… You will see that most local houses have very large gardens and a very green one. It is just innate to my Dad. He absolutely loves it. I have got that from him.
Green fingers ?
Absolutely. I've shared that with my father for so long, it was a natural progression for me. I was actually working for the government before. I was not doing anything creative and I have a creative background. I needed a change so I automatically thought about garden design. My dad said « You are in a good job… What are you doing ? »
What were you doing ?
I was working with DDIA (Dubai Development Investment Authority). I worked in Tecom in Dubai Internet City and in the Press Club. I progressed through different departments. I loved working for the government. It was an amazing opportunity to be part of the growth of Dubai. I was very proud of that. But definitively I was lacking creatively so I changed my line complety in garden design.
And how is it to work with one's father ?
(She laughs). You get to know how each other work, how you are thinking and how you react to other, clients. It was a massive but great learning curve. In between the few arguments that we had, it has been a development for both of us. To create what we have created… It is interseting how we shared, passed likes and dislikes to each other. I learnt more about flowering plant. I was always more contemporary and modern in my landscape designs. I never really into flowers. I love structural plants. I learnt how to use planting schemes and now he likes modern planting schemes as well. So it is great because we learnt from each other as well.
Are you the oldest ?
Yes, but they call me the baby of the family. I was the first to get involved in Al Barari because it was the landscape that my father wanted to push.
So you've always been passionate about environment ?
Yes. Always.
Tell me about this land ?
My father was looking for a family house and we never found what we liked locally. My Dad was looking at all these designs from America from my mother. We realized that there was a real lack of family houses that were functional, beautiful and needed an environment as well to be created around them. Because my Dad had already started thinking about developing a nursery and finding land for it, all about the green and environment to bring it back to our culture, he ended up marrying the two concepts. We created an environment to live in rather than a house to live in and think about environment afterwards. My Dad really broke the molds again with the mentallity of everybody in the UAE. They were all building boxes : Emaar, Nakheel… Cubes, with roads a few trees and as many houses possible within a space of a land. Whereas my father was completely the opposite. We have 80% landscape and 20% built up. We offer a beautiful house but in a beautiful environment.
How is it sustainable economically?
Economically it is very high end. At the end of the day it is luxurious. We are talking a very different market. They would have to pay that little bit more if they wanted to live in Al Barari. To compensate for that, number 1 it is a beautiful place just from children playing, walking around to meet and greet each other, this sense of community lacking very much in other developments. Something needed to be brought back. Commune and talk and mix. Hands that is also why there is a disengagement between Emiratis and expatriate communities. We are not mixing whereas in Al Barari we created these leaf clusters, where there are only a few houses and you are more likely to meet your neighbours and all these gardens between the houses where the children can play. We wanted to bring people together and it's worked. You start to know each other.
Why is that there is so little mix between foreigners and locals ?
I think it ended up being like it because when Dubai started with the oil extraction and the boom began, everyone mixed because it was such a small community. But then as the communities grew drastically over a very short period of time, expatriates felt safer with their own kind.
It is also an urban phenomena ?
It is a sad thing. I came accross someone who sat down with me and she asked me where I came from. I said Emirati. She said « You can't be Emirati, you're the first Emirai I met in three years ! » I actually told her that it made me really sad. Yes I am different because I am mixed but there is no reason for people not to say « Hi » and communicate with each other. Wearing an abaya and a sheila is not veil to stop people from communicating. It shouldn't stop you from opening doors. Maybe a lack of education on our side ? It is a two side thing. It is very intmidating that the expatriate community has grown so much and so quickly. From my side it is also difficult. Are they gonna be drunk when I say « Hi » to them ? It was key for my father to work on that.
How many nationalities do you have here ?
Khazakstan, Azerbaidjan, Pakistan, Swiss, Indian, English, Scottish. Saoudis, Emiratis. It is a lovely mix and they socialize.
The fact of coming from a mixed couple gives you an open eye on both sides ?
In my father's generation, he was pretty much the first to go abroad, study abroad, bring foreign women, bring them back and marry them (she laughs). This was new !
How do you explain it ?
My family has always been very forward, for our culture anyway. There was not really any issues but I am sure for other families it was difficult. I am not very conservative. We have always been a little bit different. The women in my family went abroad studying before anybody else was. I think it is our blood line, we have always been a very strong independent family, historically as well.
You come from a bedouin family ?
We are originally from Abu Dhabi. Our tribe is part of the Al Nahyan's. We come from the same factions. We are cousins. And part of our family came to Dubai.
What was your grandfather doing ?
He used to work in Jebel Ali port at the beginning. He also translated for Sheikh Rashid. He learnt English in Bombay so he was one of the few locals who spoke english. So again very forward. He was a trade man everything from pearl diving, carpets, and slowly, slowly, he began to save his money and buy land. He became a developer in individual buildings. That is where my father got it from probably and took that over.
The land here is from the royal family ?
We had a lot of land in Deira, Makhtoum street. For this land here, Nad Al Sheba, we got special permission from the Sheikh. He chose the name. Al Barari means wilderness.
Is such a lush vegetation environmentally conscious ?
All our water is sewage treated. We have a pipeline directly from the municipality. It comes into our project that my father especially organized. We polish and clean the water again and then it goes in our water ways and in the entire irrigation system. But for our clients in the villas we have to give them the two options : DEWA (Dubai Electricity and Water Authority) water or affluent water. Some people don't like the idea of affluent water in their gardens where actually it is the best one for them.
Basically it is water coming from the sea, desalinised, used and re-used ?
Yes. And on top of that we used natural topography in the landscape. We did not flatten everything and this helps to keep temperatures and wind flow throught the houses. There is less evaporation. We needed a lot of shade that is why we planted a lot of trees. We mixed our species. We also used the big ones on the exterior to protect dust from the desert. And we used other trees which don't use as much water, we try to bounce about. We planted raf trees, a type of acacia that you would see in the desert. But it is becoming extinct. So to maintain we have seeds so we grow them and plant them. It is part of our environmental action.
How much water do you use ?
A lot. We don't lie about it. However, it is already declined because of all the shade we created on a lot of the areas. We have actually decrease the amount of water we use and as we mature, this is what is going to happen.
How can Dubai become more sustainable ?
It has to start in the home and education of children is the key to everything. If we start to educate our young generation, expatriates or locals, of how non recycling of waste, used water, electricity, every ressources we used on a daily basis, teach them how to use it and appreciate it, then things can change. Right now it is very difficult. The expatriates know because they had it longer but it is harder to get Emirati families to get into it.
There is so many new things coming at the same time…
It is true. Another thing which will eventually happen is the possibility of using grey water. We will be looking at it in the phase 2 of our project. Grey water is from washing machines, sinks, showers and you collect it from your house and you can reuse it in your garden. You keep your consumption very low. Solar panelling which is partly the education and the government departments to encourage it more. There is no reason in a country like ours not to be using solar power, just to heat our water.
There are massive solar projects in Abu Dhabi, Shams 1 and 2 ?
Yes, but I think it has to start at home. If the individuals start changing then the country can change. The government can introduce certain laws, regulations but unless they are encouraging the individuals to do it at home… And that starts with education. We do that here. We show children the plants, the water : a lot of schools come visit the nursery. We do that once a month. We just feel that if we are not giving back there is not point doing it. Educating the children is also part of what we are doing here.
How much did you invest in greenery here ?
It was probably our largest investment. But with greenery we can grow our own. So there's an initial investment but then the nursery takes over.
It is open to the public ?
Absolutely. To save costs and other environments because when you are importing plants you are actually infecting other countries and environments. So the key for us was bringing the species that we experiment with and we knew would work with. So we would not have to buy them and would not be affecting others.
It can be out of control when you import a plant ?
Invasive plants is very much something you have to be careful with. And the insects. We actually have a specialist who works with us and walks around. She traps insects all around Al Barari and in the nursery and she founds out species. And from an environmental point of view if we can create an insect that can maybe eat something that can destroy the plant… It is very important because we don't want to infect the entire environment of the UAE with an insect that might have been imported on a plant. She also helps to control any outbreak of mosquitos. It could be one that could kill other insect because we don't want to use pesticides. We avoid that at all costs. We try to use as many oganic materials as possible. With all the maintenance and the construction with have so many clippings and a lot of wood and pallet, tiles. We chip them and create our own composting. We take it from other developers as well. We have the largest composting development here in house for the nursery and the landscape. We also have a plan to have an organic farm.
Where do you get your inspiration from ?
My father (she laughs). My mother, who is an interior designer. We are always travelling and seeing things that we love. Also personnaly from my travels in architecture. Hence I am quite formal and structural in my private villa designs. My planting is more from my father but also from travels. I do a lot of charity as well. I do a lot of trips with Gulf for Good. They organize treks and affiliate the charity for children in that country and you raise money for the trip and the children. It is a great exeprience – I have climbed Kilimanjaro for instance- but at the same time you are doing something for the local community. I have always worked with Dubai Cares to build schools but also curriculum and teachers. And also for Senses, special needs. My husband also has an ecofriendly cleaning maid service and ecofriendly products. If anyone buys from it, one dirhams goes to Senses so we are always keeping involved.
He is Emirati ?
No Turkish Cypriot. I did not expect to meet anybody in Dubai because people are so transiant and a certain level of superficiallity. They are only gonna be here for a bit. I am the complete opposite, down to earth.
All your family lives here in Al Barari ?
Yes. That is another thing that clients actually love. We did not just do this for money but also for ourselves. The Farm restaurant is a perfect exemple of that. We love food. Our entire family evolves around food and we communicate with it. Everthing about us is about food. It was only a natural progression for us to have a restaurant and to share with people good wholesome food that does not have to cost a lot. Everything we do is from a passion of ours and it works really well because as a family we balance each other out. My father has a vision, is a Chairman, my brother does the nitty gritty, my mother does the interior design, architectural specifications, I have the landscape background and now my sister left to become a developer on her own, Nourai Island in Abu Dhabi. She's nearly finished it.
BIO Kamelia Bin Zaal in a few words
Half Emirati, half Scottish
Lived in England until 20
Moved back home to be with her father
In and out of the UAE her all life
Working with her family for 7 years in Al Barari
Landscape creative Director- started her own company, Second Nature, Landscape Design in 2006
Worked as a freelance landscape designer before that
Studied at Inchbald School of Design in London
Diploma in Garden Design
Water concerns
There is a growing concern in the UAE over irrigation. Agriculture use more than 60% of the country's water while only contributing less than 1% to the economy. Fresh water is available 100 kilometers under the earth. Ground water accounts ofr 63% of the country's water. The Emirates lost 42% of its renewable water resources between 1992 and 2007 according to the Food and Agriculture Organization of the United Nations. The water use is expcted to grow by 30% before 2030. It is estimated that 100 billion dollars have and will be invested in desalinization accross the GCC between 2011 and 2016.