Ebtisam Abdulaziz : « I was born an artist »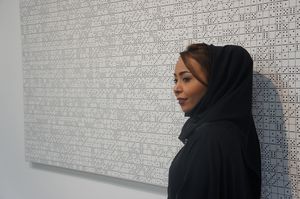 Sitting in the midst of the 163 pieces she just showed at The Third Line Galery, in Al Quoz Dubai, Ebtisam Abdulaziz, one of the most brilliant artist of the UAE, tells about herself. Her art works as a reflection, erecting bridges between her experience and the viewers'. QUESTIONS AND ANSWERS.
When did you know you would become a professional artist ?
I was born an artist. My family found I acted different from my brothers (2) and sisters (3). I loved to sit alone, writing, drawing, sketching. I am very curious. I would go searching for things in my dad's cupboard. He actually was supposed to be an artist –he loves painting and calligraphy ; he has a nice handwriting - but sacrificed everything to raise us. Every Friday he would organize a movie projection at home so in his cupboard I would find lots of stuff like lenses, pieces of film roll. My mum had a very lovely voice. They were ready to have an artist in the family.
Your father encouraged you to become an artist?
My father used to travel a lot. He gave me colorful papers and pastel painting. Before my graduation, he would see me painting. He even framed one of my drawing for a friend ambassador. When I was twelve, I was reading this art magazine my dad used to bring back from Kuweit until 5 in the morning. He would find me reading it when he woke up for his prayers. I was naughty in a way, doing things that my family was not really happy with.
Did you get support from elsewhere?
In grade 7, I was very good at painting and during a class I helped a friend. The teachers reaction was to kick my ass for it instead of appreciating. There was no serious curriculum in art.
You alwways hesitated betwwn art and science. How did you manage to join the two fields?
At school, there was a lot of competitions in drawing but there was no art curriculum yet. When I graduated, I knew nothing about the big names. In Al Ain university I chose to study something related to art or science, math to be more specific, which I love. It was a tough decision. In Al Ain, there was a college related to art but it was more to become an art teacher.
What did these acacdemic years teach you?
Being a girl in an arabic family, suddenly going alone at university helped me become more independent, detached. All around the UAE, arabic families have lots of rules. You depend on your father. Boys have much more power and freedom. So starting university, meeting people, exchange with other girls, not go home at night, be on your own. It is real life suddently : you have to count on yourself, get to know who you are and discovering the freedom that we all need.
But what about art?
One year before graduation, the university organized an art competition among all the students. I thought « Lets do a sketch ». The next day, the professor came to me and asked : « Did you study art ? ». I was doing a degree in maths. He said I should take the first price because he felt bad his students were doing less good after having taken classes. It was the first tme someone appreciated what I was doing and encouraged me.
Maths weren't enough anymore?
After graduating in maths, I did something one would call crazy. I sometimes do crazy stuff. I am a very moody person. So I started doing graffiti on the white wall in my accomodation room. The supervisor started shouting : « You will be fired ! » I told her I loved to do that. And actually it looked nice so she told me to paint it back in white and she did not report it.
The name of this show is "Autobiography 2012". How would you define yourself?
As a person I am sensitive. Anything can make me cry : seeing a poor man on the street. But at the same time I am a very strong woman. I can fight anyone to get what I want in terms of my rights. And I have a lot of dignity. I am a very moody person. I love crazy things. I cannot be in a routine. I like ups and downs. I love working. I have to have a project. I cried the night after the exhibition started. It was like delivering the baby. My sister said "Comon you cried before the exhibition and now you cry again !"
Is your career the priority?
I am not married. Maybe I have been too busy doing things. Or maybe men don't see buzy women as a good wife. I am trying to find the reason ! And I am too smart. Smart is a challenge for Arab men. I am a very logical person. I can accept talking in a very logical way. Artists have a bad reputation : they are more crazy people, not stable, they have strange moods… But my target is to get married in 2013 ! I am still this curious little girl so I want to explore how it is to be a wife and mother.
After graduating in maths, how did you move to become an artist?
I graduated in 1999. I could get a job easily wiht my certificate but I told my Dad that I would at least take a course in art. So my sister drove me to the Fine Art Society in Sharjah and I was lucky because they said a three months course was starting the following day. I learnt basic still life, charcoal, pencil, pastel, acrylic. We got lectures on modern and conceptual art. My work was exhibited. I got the certificate. My Dad said "Hallas ! Now you come home ! "But i said I wanted to do more and I joined the Art Society, used their faclities, read their library books. They became my friends and I was little by little part of the group.
When did you have your first exhibition?
In 2004, I told someone there I had this thing on my mind but I couldn't do a painting about it : I wanted to mix maths, science and art. And he told me to read about the systematic art movement of the 1940's. And I used it in my art and I came out with 4 or 5 huge projects around maths. I did my first solo exhibition in Sharjah Art Museum. The first really serious exhibition.
You use codes in your work. Explain.
I want to encourage people to investigate, search and ask. It is not only esthetics but I want to speak to the educated people and have a dialogue with them through my art pieces. I dont want them to say "Oh these are lovely colors", but i want them to think different. What message is behind ? Each piece has a concept. This is why I don't have a medium. The concept drives the medium. I will use video if I need movement and sound. I will use installation.
Why Ebtisam 2012?
It says something about me. Here you have an autobiography of Ebtisam 2012. I am using different outputs and elements. The domino is three paintings : drawing on canvas with a black pen. It says so much about Ebtisam. Behind is my character, my biography. When I was driving, the plate numbers attracted my attention. Each car was like the I.D. of the person driving. I tried to find an equation to relate to these numbers. I thought I should include this because it says a lot about me. I collected plate numbers from a trip from Sharjah to Abu Dhabi. I collected plate numbers coming in order and I thought about the domino because it has something to do with my childhood. We used to play it as kids. It is something familiar to Ebtisam but it gives something to others. I encourage the audience to read domino in a different way and do calculations in their minds. It says a lot about my personality : I am a minimal, sharp and honest person. It is close to me.
Are you an obsessed person?
I love systems. Sometimes I go crazy without system. I have a routine in the morning and if one part's missing, I miss one, I feell something's wrong.
Do you say personal things in a hidden way because privacy is very much valued in the Emirati culture ?
Yes and no. Drawing my diary says so many things in an abstract and hidden way. It is not because I am not strong enough to say it but it happened that way. I can stand in front of an audience and talk about women issues around the world related to all aspects. But this time it happened that way. It is more abstract. I dont hide myself. I am not afraid of breaking rules or borders.
In your opinion, what challenges lie ahead women in the UAE?
As an artist representing the UAE at the first Venice Bienale, I was happy my dad saw my performence. He just smiled. He understood how serious I was and he had a big question mark when he saw it. I was standing next to him explaining it to someone and he was surprised. He had a good reaction. How come an arabic, islamic woman, does that ? He did not say anything though. One of our issues is how can we do things without upseting . What are our borders ? What are we aloud or not to do ? The freedom is sometimes an issue. I cannot travel alone: it is my father's decision. Not matter my age.
How old are you?
I am 36. We need a solution for that. And I need someone in my life who will not stand in my way and stop me from doing things. I am mature enought to chose what is right and what is wrong.
INFO
Ebtisam abdulaziz first solo show « Autobiography 2012 » at The Third Line was hold between December 5, 2012 until January 16, 2013. "A work that seamlessly shift between intimacy and science, imparting details into the artist's private thoughts and the visual coding that symbolizes her systematic thinking".
BIOGRAPHY
She is a multidisciplinary local artist and writer based in the UAE. Reflecting her Bachelor's Degree in Science & Mathematics, Abdulaziz incorporates her unique perspective on mathematcs and the structures of systems rto explore issues of identity and culture through installations, performance pieces and works on paper. Abdulaziz has exhibited as part of the Inaugural UAE and ADACH Pavilions at 53rd Venice Biennale, as well as the 7th Sharjah Biennial ; Languages of the Desert, the Kunst Museum, Bonn, Germany : Dubai Next, a collaboration between the Dubai Culture and Arts Authority and Vitra Design Museum Basel, 2008 ; Arab Express, a group exhibition at The Mori museum, Tokyo, 2012 ; 25 years of Arab Creativity, the Institut du Monde Arabe, Paris ; Inventing The World : The Artists as a Citizen, Benin Biennial 21012, Kora Cnetre, Benin ; Abdulaziz is a member of the Emirates Fine Art society and Tashkeel editorial team, was a participant in the 2007 Emirates Foundation Grant Program Art Panel, and has recently been selected as one of the artists for the 2013 Artists-in-Residency Dubai program, a collaboration between Art Dubai, Delfina Foundation, The Dubai Culture and Arts Authority (Dubai Culture) and Tashkeel. Abdulaziz work is housed in several prominent public and private collections world wide including the Collection of Deutsche Bank AG, Germany ; Farook collection, UAE and Ministry of Culture & Youth Collection, Abu Dhabi, UAE. She currently lives and works in Sharjah, UAE.
Courtesy of The Third line.
« Abdulaziz's work lies at the crux of ht epush-pull of order/disorder, and of private/public. As viewers we are complicit in the work, and read and weave into i tour own daily lives ; the artist appears to expose the daily intimacy of domestic life, yet through her method of working and reworking, of creating and recreating interpretive systems, she actually builds protective layers of meaning into her work. »
Antonia Carver, Fair Director, Art Dubai