"When I joined the Ministry of Education, there were 99% men… I worked so hard to say « Listen to me, I add something. »"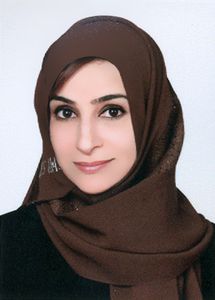 Jameela Al Muhairi tells about her « journey » working in the Education Department and the fights still ahead. Her passion lead her to become Dubai Schools Inspection Bureau's Chief and a pioneer in helping private schools flourish in a city which counts 85% of expatriates. INTERVIEW.
How do women help each other as leaders ?
I attended a women's leaders meeting not long ago and I was impressed as how useful this is and how we can influence and encourage young girls to look at us and become future leaders. We help each other, we talk about how we can encourage the younger Emiratis to be leaders, what obstacles the girls have. We discuss our different approaches.
What are the obstacles the girls still face to succeed?
There was a conference a while ago led by the Dubai Women Establishment in Dubai. Sheikh Mohammed was attending. Women from the GCC shared their challenges and problems they are facing. This is when we realized how lucky we are in this government. This is not « blablabla ». I say that trully from the bottom of my heart. Our government recognizes that we can be Ministers, Members of Parliamant, CEOs, that we can be equal to any men. We can present our ideas and discuss them with the management.
How do you experience it yourself?
When I present things to the Executive Council regarding inspection, fees, early years, different topic in education, I feel I am among them. Sitting there with other women really makes me proud of where we are. Where are my colleagues from the GCC country? Leaders of this country support women in reaching higher levels. For example, I am a board member of Dubai Cares working closely with Minister Reem Al Hashimi. See how lucky we are to represent the UAE when we have delegations from all over the world. We are young women travelling abroad, representing the UAE.
How did you reach that position ?
I am lucky to have a supportive family who allowed me to have a good education despite being a girl and to work in a mixed environment. I did not have to struggle for that. My sister already went to study abroad in the US and in Lebanon in the 60's and the 70's.
It was not common at the time ?
No not until the 90's.
Did you study abroad ?
No, I graduated in Al Ain University. I had the choice to go but I decided to stay because it gave me many opportunities. From an early age, I asked myself « What will I do with my life » ? Nowodays there is no careeer councelling. Students don't know what they want to do in the future. But in grade 8 or 9 you need to know.
You always knew what you wanted to do ?
I was always passionnate about education. I entered the Ministry of Education as an employee and because I had a good level of English, I focused on private schools. It was my passion. It was a really small sector at the time.
How many private schools were there in the UAE in the 80's ?
Maybe 200. I looked at regulations, the quality of education, opening new private schools. All my life I worked for the Ministry of Education focusing on private schools. There was a whole floor devoted to the governments', to support public schools. But I was not interested. I focused on this small department called « Private Schools ».
Why ?
There was the potential, where you could interact with different nationalities, learn from them. I thought I would enhance my education and experience by interacting. I first thought it would be for several years and then I would go to government schools. But every year it was growing. Unbelievable. People moved from all over the world.
The shools also had to adjust. You had to offer more to these new people arriving ?
And the potential investors in this sector. People in this sector where asking how to make a profit.
It is a real business ?
Yes, it never stopped.
How many private schools are there now ?
Dubai has about 150 private schools now. It's more than doubled in 20 years. Each community established a school supported by the government. Sheikh Rashid Al Makhtoum, the father of Sheikh Mohammed, was looking how to help each community : provide them with a land, give them support from the Board to establish the school adapted to their community. It grew so quickly. In 2006-2007, in one year, ten schools opened in Dubai.
You come from a family dedicated to education ?
My brother (ndlr : Khaled Al Muhairy is the founder and CEO of Evolvence Capital, member of the Board of Governors of Repton) is a businessman but he has this passion. We chat a lot about education and private schools. We need a lot better in Dubai : a school that serves our community, our nationals and give them a good education. If he did a beautiful job at Repton or not, I cannot say because it would be conflict of interest. But it is a sector that is growing.
How did the Knowledge and Human Development Authority (KHDA) was set up ?
After the Ministry of Education, I still wanted to work for education but what kind of education ? I wanted to add more. There was a good opportunity in 2000 : Sheikh Mohammed developped this concept of free zones for different sectors. Knowledge Village was an opportunity to expand private good quality schools in Dubai. Sheikh Mohammed gave us a huge land. He asked us to bring good investors to build good schools. In 2006, we started putting in place the Dubai Private School Project : we visited schools all over the world, told them to come to Dubai, to set the quality of education we needed here. We went to the UK, Switzerland, to visit the schools we wanted to have in Dubai. We did not insist to have a branch, just a good quality school. There were not enough schools offering International Baccalaureate here. Then Sheikh Mohammed bin Rashid assigned me as a member of the Dubai Education Council. But we realized we needed more than the Council, to give advice to private schools and the government. This is where Sheikh Mohammed established KHDA by decree in 2007.
You are now the Head of the Inspection Bureau at KHDA ?
We had an agreement with the Ministry of Education that we would look after all the schools in this process and in all the areas: teachers, private schools, tuition, fees, councelling, everything. The first thing we did was to build a strategy for public and private schools. The mandate covered the early years and higher education. 10 000 people in Dubai contributed to this strategy. It was not just consultants coming from abroad and building it. We have enough experience to know what we need in Dubai, what are our priorities. I focused again on the private sector : our priority was to regulate and make sure that they were providing good quality education. I thought this sector was where I could add value. So I presented it to the government and obtained a decree from Sheikh Hamdan to establish the Bureau : to make sure I had the power to go to any school and ask questions. Then I was assigned Chief of the Department and got the accountability from the government.
You were a pioneer in the field ?
It was a journey. For me. This was something that had never had been done in my country. It did not exist in the UAE. Nobody was controlling what was going on in the schools, to see how children developped, their skills, how schools contributed to the society of Dubai. We developped a framework. The difference with Dubai is that we have a unique multicultural society. It was a challenge. We came up with seven quality indicators that would apply to all curriculums and the public schools. We set scales : outstanding, good, acceptable, unacceptable.
What are the criteria you use? This year it was « UAE national students and special needs » for instance…
When we started we needed a base line. Nobody was ready for it. Inspecting everything in the schools from A to Z, had never been done before. So we needed quality indicators. It was very important. We were not going to invent something from scratch. We needed quality indicators that looked at subjects - maths science, language of the school, Arabic for Arabs and non Arabs, Islamic studies for the Muslims, using the same standards set by the Ministry of Education for public schools and all subject given the same importance) ; development of the children (attitude, behavior, community involvement) ; curriculum (how you teach and how the children learn) ; leadership (Board of Members and their involvement) ; facilites ; ressources ; partnership with the parents. And we graded them. But of course, there is a mechanism to do that. We used people from all over the world to help us inspect certain schools, train them.
How did the schools reacted to the first inspections?
Five years ago, the schools did not know what we expected from them. It came as a shock on the system the first year. There was resistance. They reacted like : « What are these indicators ? I am doing my job. What are you looking at ? It's all paper… » But at the end of the day, our mandate is to be transparent, to inform any parents : « This is the quality of education the school provides your child with. This is what is happening in the school, on your child's classroom, so that you understand what we are talking about ». Some schools reactions' were : « How come you rate me acceptable ? You know how many kids from my school go to Harvard University ? » « Yes, maybe one, but what about the other 2000 ? » These were the questions we had to deal with the first year.
And what was the reaction to the fact that Arabic language was put on the same level as the language of the school ?
Some questionned the emphasis on Arabic language. They asked : « Why you want our children to be able to speak Arabic ? » This is what the government of this country wants : your children to be exposed to this country's culture and language. To know why I am wearing black. I am not a stranger. We want the children to know why we are establishing this. The schools have to encourage children to know about other. As a human being if you want to be a good citizen, you have to know about each other and respect each other. This is whay we emphasized on the quality indicator number 2 : student development, attitude and behavior, the values of islam. If I am muslim, what do you do for me ? How you respect other's religion ? What do you know about my culture, and what do I know about yours ? There are 92 nationalities here. How the schools deal with this ? I am British, I know about British culture. I am Muslim, a local, I know about your country more than my country because I attend your school… We wanted to break this.
Are you a mother ?
Not yet but one day Inch Allah !
Would put your kids in the private sector ?
Of course because I see the quality of education.
What are the improvements to be made in the public sector ?
It is so difficult for me to answer that. I inspected them for three years, went to each school in the public sector in Dubai and wrote an individual report and an annual report on the public sector. It is on our website but it is difficult for me to say. When I look at the private sector, it is very interesting because 58% of the locals take their children to private schools and it is growing every year by 5%.
But private schools are expensive?
Locals have the choice to go to the public which is free but they choose the private. It is a big question mark. Why the locals choose the private ?
Aren't they afraid to loose their Arabic and their culture ?
Yes. KHDA yearly inspection results show that our children are not performing very good in Arabic. They have difficulties. It's an issue all over Dubai, all over the UAE. Sheikh Mohammed established four initiatives regarding Arabic. Every parent want their child to improve in Arabic. We have a problem with Arabic in the private sector. This is why we emphasized putting the same weight under Arabic, English, Maths or Science. It's a journey.
But foreigners do not know how long they will stay here and if you impose too much Arabic on them, it's a problem too?
In private schools, we have Arabic as a first language for locals. They have to use the text books and the standards from the Ministry of Education. Islamic studies are imposed by the Federal government. For expats, we call it foreign language. It is easier. We want the school to be creative on how to teach it. There are not yet there. Some school do it in a very nice way. In some British schools, when blond children with blue eyes see me wearing black and sheila and say « Salamalekoum, my name is … » and try to interact with me, this is beautiful. But my worry is not the second language. I am worried about the first language. The big challenge in our society is to maintain a good level of Arabic. If you loose the language you loose what ? This is so essential in our framework.
How do you influence local families to keep their children in the public sector ?
If the people had faith in the public sector of course, they would have their children attend it. Why waste their money in the private schools ?
How was it for you to work for you here as a woman leader and impose your views on a male dominated environment ?
If you look at the 80's, it was difficult for women to be in my position, to be a Director. Males dominated everywhere. When you educate a child, you educate girls to be equal to men, if you educate her right. Women in education -I should not say that- are performing better then men. So when the government took this journey of educating the female this is where it started in the UAE. This is how they educated me. I went to university in the 80's and when I joined the Ministry of Education, there were 99% Emirati and expat men. It was challenging to position myself. I worked so hard to say « Listen to me, I add something. » It was a journey. Because I was passionate and a local and a female, and because the Ministry leaders looked at me as a potential, I was lucky.
What makes the difference ?
Education and the position of the government.
What makes you more « lucky » than other GCC countries ?
Our leaders. In every sector you can see a woman. At a recent government summit, Sheikh Mohammed told 3000 people coming from all the UAE, CEOs, Directors, that men should watch out and work hard otherwise women would take their place. If your leader says something like that … There is four ladies Ministers, it makes you proud. You can be and do whatever you want in this country. I don't know about the others in GCC but here in the UAE, we are so lucky.
What did girls study 60 years ago ?
Let's talk about my mother. She was so lucky because her mother insisted that she studied the Coran. This is how she learnt how to read and write. But of course, no maths, no science. In the 60's, the governemnt of Koweit sent teachers and books to schools here. It started there.
What is the budget for education in the UAE?
Education and Social Affairs are the priority and among the highest budget. Education overall is 9 billion and 10% of it for Dubai ( public sector). There are 24 000 students in the public sector in Dubai and 28 000 students in the private.
For more information and to find your school's inspection report :
http://www.khda.gov.ae/en/Home.aspx
Education landmarks
1954 : the first girls' school, Al-Zahra, opened in Sharjah.
1958 : the two first girls' school, Khawla bint Al Azwar in Bud Dubai and Al Khansa in Deira, of opened in Dubai.
1996 : the first girls' school opened in Abu Dhabi.
The pioneer students :
Maryam Al Khaja
Rafia Abdullah Lootah
Amna Obaid Ghubash
Amal Al-Bassam
Maryam Saleh Al-Osaimi
Before the 50's :
Education focused on the Holy Qur'an, islamic principles and Arabic language.
1953 :
Official education started funded by the Kowaiti government
1955 :
Egypt granted scholarship to study in Cairo
1971 :
Higher education under the UAE (founded in 1971)
-1976 : UAE University
-1988 : Higher Colleges of Technology
-1998 : Zayed University
2010 :
15% of the Faculty at UAE University are women
51% in private colleges
46% postgraduates
72% in public universities => the highest proportion in the world !