« We don't want to intimidate the male generation »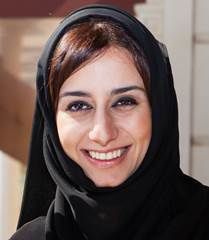 AMEERA BINKARAM has chaired the Sharjah Women Business Council (SWBC) since 2009. She explains the dynamics of women in business over the past decades and pinpoints the starts of their golden age in 2006. She describes how they became organically empowered, gaining independance with all due respect for a male dominated culture. INTERVIEW.
More and more women are involved in business, the litteracy rate has risen. What you have witnessed ?
Sharjah operates under the supervision and guidance of His Highness the Ruler of Sharjah Sheikh Sultan Al Qasimi. We have seen his dedication towards education. That is not limited to the city. The past three years, we witnessed universitis emerging in the rural areas of Sharjah like Rafa Khan, Kalba. They now have full fledged universities. You can imagine the domino effect for the families there. One of the major players for the past decade for the enhancement of women education and social and community wise is also the existence of the Sharjah Ladies Club (SLC). Its headquarters are in Sharjah but it has another 11 branches in smaller areas of the Emirate, where seven years ago were considered so remote. You could not even access one of them by car. There was no road. His Highness created a tunnel and asked for the SLC to go there. This is giving people from the rural areas access to knowledge without having the hassle of commuting back. This is part of a bigger strategy here.
So you saw the situation evolving for women with your own eyes ?
I accompanied Her Highness Sheikha Jawaher, in one of these rural areas not long ago. Behaviours have changed, education is there, the level of communication has grown. You don't feel that you are commuting anymore. It goes to show you the organic growth and the constant support extended by His and Her Highness to universities, to municipalities, to the Sharjah's Ladies Club and their branches. It goes to show you the effect it has created in these areas among women in the families.
I read that if women were involved as much as men in the economy, the GDP would grow by 12%...
I am not surprised at all.
What are the particular things women bring to business ?
I think a women's perspective on a working environment is as important as a men's perspective. It was difficult or challenging for a woman to be working in the past. Two years ago, with Sharjah becoming a baby friendly city and the laws passed on by government organizations to have nurseries accessible for the working mothers, it's been a relief and it has increased the productivity of working mothers. It really added a lot on the long run.
What does a woman add to a professional environment?
I don't see the difference between male and female because I believe that once you are given a task then you develop it 100%. A lady once came to us. She wanted to start a chocolate factory. Her husband was sort of against her doing it. He went ahead and started it with a Tunisian partner. She asked us how to overcome this challenge. We advised her to ask her husband to make her a partner. When the chocolate factory was created, in return we would give her benefits. The minute, the husband and the partner saw the benefits that's when they made her a partner. When they came to venture into another business they immediately asked her if she would be part of it because the SBWC would give her benefits. In business it all comes down to the maths. But we have seen a breakthrough in the cultural restrictions. There are challenges but they are no longer tough as they used to be.
What are the remaining challenges ?
We see some from time to time. But in the last two years we hardly came accross these challenges.
When women start bringing an income, does the problem lessen ?
Economic empowerment brings about independance. It should be a natural process. We don't want to intimidate the male generation. It should be organic, natural. Even if it's happening from home. Some Arab and non Arab just want their wives at home and it's perfectly acceptable. But she can be economically empowered from home.
Do you think men feel threaten by women's independance and success ?
It depends from case to case. My biggest supporter is a male.
Your father ?
Yes. He is a business man in construction.
Where did you study ?
I went to school in Sharjah and in Dubai Women's College. I graduated a sa mass communication, not even university degree and then I went to the family business here. I was managing construction. There is no restrictions at all. 2006 was the golden age of women, when our first minister Sheikha Lubna was appointed. Women have taken a toll. Women in the UAE have always been given independance but it officially happended when she was appointed first Emirati female minister.
Women seem very determined, even more then men. Because it's been a battle ? They had to gain this independance ?
I don't know because I was born in a house where there was no separation between male and female. You work hard, you get a pat on the shoulder. You are lazy, you get the boot camp. It differs. But in the UAE, the government has really supported women. Her Highness, visits every year the different regions of Sharjah. Not long ago, we visited Lekha, one of the rural areas. She is going there, listening to the women, their needs, their requirements, takes notes, is familiar with each of them. She is updated. They genuinelyy care about the concerns of Their people.
This is part of your culture as well ?
Yes this is the Emirates. This is the strength of the Emirates. The ruling family operates like an extended big family. Whenever a woman comes with a requirement, Her Highness does not respond to it as a single request. She takles it in a holistic approach thinking that other women probably have the same need.
This is real politics…
Yes and this is how women are important in terms of politics. One of them was in sports. She told Sheikha Jawaher how she had to comute few hours to go to the sports center. Her Highness saw the need for women to be fit as well and inchallah set up a sports complex for them. Every concern is a bigger concern bringing a solution to the community. This strengthens women. If the stakeholders can listen to you at certain times –an annual visit, Eid or Ramadan, through answers in the radio, twitter- if they are accessible, your mind is at peace.
You participated in the Women on Board Forum which led to a new quota decree ?
It was a an initiative of Sheikha Manal, Head of the Dubai Women Establishment and Mouna Al Marri along with their team. They have been working strongly with consutants in terms of reforms insuring women work in a safe environment, that working mothers can cope with the challenges of work and children. The last thing was Women on Board, a subject that was highlighted extensively in the Women's Forum. They gathered women and men from different sectors, took their different points of views, measured each debate on stage to make sure their opinoon was not biased. That's the beauty of the UAE. In the past two years, especially with the Arab Spring that has been happening accross the nations, you will see a policy put into effect. The policy makers are now taking the feedback of the people. Before it was put into effect. Now the people are part of the policy, the decision process.
This is what we call sustainable development… ?
Very sustainable. Corporate governance. I think the Women on Board initiative and the Forum. Is a good example. They asked the SBWC to be part of it. Because I sit on a few Boards, (Friends of Cancer Patients Society ; International World Girls' Guide Fund ; Sharjah Tatweer Forum ; Sharjah's Ladies Club). I was asked to be part of it. They wanted to showcase that women in the UAE are already part of Boards locally, regionally and internationaly. Two weeks after the Forum ended, a rule was put in place. But in Sharjah it's a given. If you are a woman you are anchored and supported.
Well there are many countries without such a rule. Dubai will be one of the very few ?
Exactly. The quota issue is still not into effect. After measuring the polling response, they looked at the quotas. It was still too early to have X amount of females on Boards. This is sound. Because we should first get women on Boards. Then when we get that accepted, we enforce a quota. I think everything should work gradually especially in Arab countries and the Gulf State Countries. The women's parents, brothers, husbands all have a say in a woman's life. This is our culture and you can never detach from culture. You need to understand it and work within that. The Emirates have been successful because policy makers understand the parameters of our culture, how precious a woman is. It is a given, the father, the brother, the husband, the uncle, have a positive say in the woman's life.
What about the role of the UAE in the region for that matter ?
In terms of women and the Gulf States, we have been benchmarked and in lot of case where we attend forums, in Lebanon, in Bahrein, Koweit, Oman we get to hear that they all know, the message is out there : women are supported. If you ask who is that woman who is really creating change in the UAE ? It is a group of women. There is so many and each one is working within her focus.
Tell me what the most successful women have in common ?
If you look at Sheikha Loubna, Sheikha Jawaher, Noura Al Noman, Dct Houriya Kazim, they all use humour to cope with stress.