« Sudden wealth has eroded some of our values »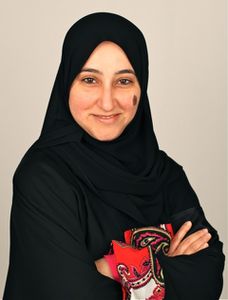 Sensitive to the lack of books for young Arabic people in their motehr tongue, Noura Al Noman published her first science-fiction novel in Arabic becoming a pionneer in her field. But she is also the Chief Executive of the Executive office of Sheikha Jawaher Al Qasimi, the wife of the Ruler of Sharjah. She talks about their involvement in family and social issues. INTERVIEW.
Describe your role as Director General of Sheikha Jawaher Al Qasimi's Executive Office and her « Live and let live » philosophy?
I assist Her Highness in her role as Chairperson for the Supreme Council for Family Affairs in all the projects she initiates and runs according to her vision. I started in 2002 and my role has grown with the projects. In 1982, Her Highness noticed that the ladies needed a safe place with privacy to do the things they are interested in. She started the Sharjah Ladies' Club which used to be called Al Muntazah Center. From the Club, a lot of her organizations were born. They are involved in children, youth, women, social and cultural issues and philantropy. The Supreme Council, born from the Club, has become the umbrella organization for all these actions. The Government of Sharjah and His Highness, our Ruler, Sheikh Sultan Al Qasimi, finance them. Whatever Her Highness is interested in, grows into an initiative and into centers and organisations.
In other words her dreams become real. Can you describe some of her involvements with the youth, as she is very concerned with education ?
She has developped programms for children : after school extra curriculum activities in art, science, and lately, robotics. And after twelve, the kids can then join youth centers for boys and girls. One of the initiative Her Highness is most proud of is the Children's Parliament. It has existed for twelve years now. The children hold elections and the winners become members of Parliament. Every year they work on a theme. They ask to speak to people in power and invite them to answer their questions about issues that impact their lives, like in a real Parliament. Last year, nutrition in schools was on their agenda and they called the Ministers of Education and Health to debate the matter. At the end, they came up with recommendations. It is a very good experience for children in the process of democracy. They realize the changes and what is happening around them. When they grow up, they can join youth centers which also has a parliement. I met a young man, a graduate from the Children Center of Sharjah, who ended up launching the « Flag Over Every House » initiative during National Day. This is an example of who they become. He was very proud of it.
Supporting the family unit is one of Sheikha Jawaher's main concern. What are the issues regarding family affairs and the new challenges brought by modern society ?
Her Highness is the Head of the Family Development Center. They offer family councelling but they also raise awareness when it comes to family issues. Every year around 3000 people come to them and ask for help whether it is psychological or advice. A lot of them are concerned about divorces and drug abuses (mostly men). We have a very high rate of divorce in the UAE (read appendix). It has to do with the fact that unfortunately couples do not understand the responsibilties of marriage. So the Center provides workshops for people who are about to get married or just got married. They discuss what it means to get married in terms of responsibility and partnership : how to treat each other. Here people marry young and the parents haven't really prepared them for married life.
Sheikha Jawaher says she observes daily the effects of modern world on her people. What is her concern ?
As a country we are only 41 years old and 40 years ago it was so different. What countries have experienced in hundred years, we did in only 20. So there is a huge gap between the old and the new generation and this has caused a lot of problems. People are concerned with materials things, brands and fame, more than teaching their children the values of the UAE.
What were the core values of the UAE which you are trying to bring to life ?
The family used to be the center of everything. There is also philantropy, civil service, serving the community and concerns for others. Because of our climate, the seasons in the UAE, men would travel abroad to provide for their families, or go for months at sea pearl diving. The rest of the family had to take care of each other. But with oil, sudden wealth, unfortunately it has eroded some of our values.
How was Sharjah in the old days, when you were a little girl ?
My two houses –meaning the family of my mother and my father- are from Sharjah. We used to live here. Sharjah was set on a stretch of sand in this area where all the houses were built. People only moved a bit further inland during the summer for freshness.
The UAE were poor and Koweit used to build our schools. They sent teachers, mosty Palestinians and Egyptians, and books, and even breakfasts ! We appreciate what Koweit has done for us. All this has changed. Our kids no longer appreciate how deprived their parents were and how lucky they are. That's also a reason why there are so many divorces.
What are Sheikha Jawaher's values ? She seems to be a very human oriented person.
Her values go towards humanity and human dignity. The core values of our office is respect in human dignity. She is that way because of her upbringing. Yes, she is Sheikha and wife of the Ruler, but before oil and the creation of the Union, she remembers how we were all raised, believeing in our duties towards others. She is also well read and constantly watching the news, concerned with what happens to others around the world. We just came back from Geneva where she was briefed by UNHCR on a neonatal clinic she helped finance in Somalia. And she is also bilingual which broadens horizons. Tradition is not only clothing or symbols of tradition, but what our people stood for and this is not promoted enough even in our education system.
Does that reflects on her humanitarian and social choices ?
Her Highnesses organizations include the Sharjah City for Humanitarian Services. It is more than 33 years old. It is a Center for disabled with an early intervention center, an autism center and its own special sports club. The pink Caravan is also her initiative (campaign for breast cancer awareness).
Tradition has nothing to do with conservatism. What would you call conservatism ?
I will give you two examples. The first one in sports. People love to see men in sports but they think that girls should not be doing it. The SLC has ten branches all over Sharjah all serving the purposes of their area. But most importantly they have sports teams. Her Highness met a young girl in one of these centers wearing sports clothes. She asked her if she was playing in a team. She said her parents wouldn't let her. Her Highness urged them to for years… This does not happen anymore. The second one is cancer. Eleven years ago people wouldn't even pronounce the word. They said « that disease », out of fear of catching it but mainly out of ignorance. Because of her Highness campaign « The Friends of Cancer Patients » launched in 1999, it has become a common thing to talk about it, to do self examination and go for check ups.
Which fields are still difficult to adress ?
The way priorities have changed. Everything is about brands, shopping mall mentality, 15 minutes of fame. But it does not mean we will not change it. Like the Girls Guide. It's a good alternative to the « go out spending money » mentallity. We can reverse it by providing these kinds of programms, raising awareness about others on other places.
Tell us about the Girl's Guide ?
Her Highness just launched the new identity of the Girls Guide (scouting organization of the UAE). She is the President. She used to be a Girls Guide as a child and she says how she understood her duty to her country and people through that movement. That's why she does what she does. And that's why she is kean to develop the Girls Guide. Because that's what will bring back the core values of the UAE to the kids. When we do it in fun and exciting way, it will last forever and be part of your personality. She called all the ladies to volunteer like she will. She is very close to Princess Benedicta from Denmark who is the Patron of the Baden Powell Society who came twice to visit the Girls Guide here. They share the same passion. Her Highness is also urging the wives of each Rulers of the other Emirates to open a chapter of Girl Guides. We miss only Dubai and Ajman but we are working on that. She also named two ambassadors to be an inspiration for the girls. She chose Susan Al Houbi, a Palestinian raised in Sharjah, who climbed Mount Everest and Sheikha Ahmed Al Qasimi, a niece of the Ruler, empowering young ladies and a columnist, to be their mentors. Let me give you an example of how Her Highness is. Going back to her car after the event, she saw all the trash the children had left behind them. She said that's not what Girls Guide is about. She went back to teach them to leave their environment clean.
It must be a real challenge for women here to be torn between tradition and extreme modernity ?
Modern society brings a lots of positive things. Women now know the potential they have. So many organizations have helped them realize it. But they have lost contact with their kids. They may be too busy with their jobs. Their husbands are not always helping. Lots dont get their support. Their children and family are no longer a priority. It is one of the negative side effect of modern society. And Arabic… the youth is not even interested in its own language. And we are talking about more than 50% of the population. They look for the easiest, english or what we call arabisi (arab english slang). Everybody blames the youth but we are the ones responsible. They are the victims. We should provide them with interesting Arabic content.
Actually you just published the first science fiction novel in Arabic here ?
Sheikha Bodour, the eldest daughter of Her Highness, published two of my books for children, one about a cat and the other about a hedgedog. She actually encouraged me to write. I wrote about the contrast between a pet animal which you are responsible for and a wild one that you have to help but release it to the wild. I started to write because I realized that there were no Arabic books to read for children and young adults. Because my teenage daughter will never read Arabic litterature. It's too complicated for them, they can't relate. This is the same for a lot of young kids and as a result they turn to english books and loose their skills in Arabic. I myself looked for Arabic novels but I could not find any. I am interested in science fiction and fantasy. So I wrote and published my first novel last November. It is called « Ajwan ». It is the story of a girl whose planet is destroyed and she becomes a refugee. It deals about the disfranchised, the injustly treated and the unscrupulous who use these people to their benefits turning them into terrorists or thiefs. Some young people wrote to me to tell me it was the first novel they read in Arabic.
What advice would you give to women ?
Get your priorities straight, focus on what really matters and then you will probably do things in a different way and it will affect people around you. If children are your priority, you will have a better future. Maybe I am too idealistic.
Divorce and marriage in Dubai : statistics
2012
4200 marriages
1100 divorces
7% less marriages between Emiratis
1% more between an Emirati and a foreigne
Divorce raised by 10% between 2009 and 2010 ; by 13% more between 2010 and 2011
Source : Dubai Statistics Center
Some of the reasons for divorce according to experts
Rapid social change
High cost of marraige and dowry
Married too quickly ; spouse not knowing each other enough
Exposition to other cultures
Rising independance of women
Loss of authority from men
Disparity in education levels between men and women
Disparity in age between spouse
Refusal to provide a separate home in case of polygamy
Family interfeering
Difficulty to communicate
Violence
Jalousy
Infidelity
Manque d'intimité
Alcool and drug abuse