« I am the first woman surgeon in the UAE but not the first who tried »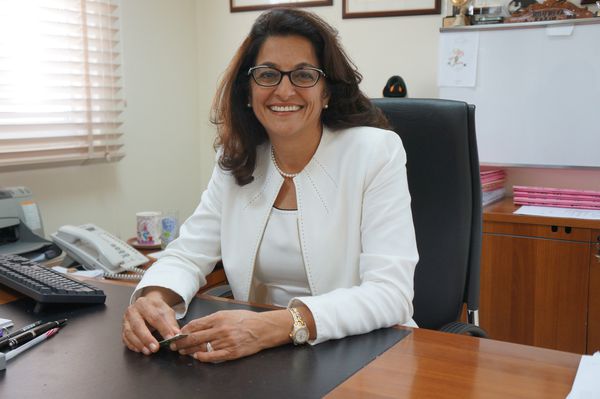 A UAE national, Dr Houriya Kazim is the country's first female surgeon. She says how she managed to climb the medical ladder and what challenges lie ahead of women here. Basically they have it all in their hands. INTERVIEW.
How does one become a traditional country's first female surgeon? What is the secret recipe in your background ?
We are from Dubai but we traveled a lot during childhood with my father who is also a surgeon. When I was born he was doing his training in the UK, so I spent my first few years there. He worked in the Caribbean for a bit, in Canada and then came back here in the 70's. So I spent my childhood abroad. In terms of medecine, I come from a family of doctors so it was no surprise that I went in medicine. My grand father was a « hakim », a faith healer. He never went to school or anything but the village would call on him when someone was sick and then the majority of his kids –I think he had about 25 children with all the wives- became doctors, even the girls. In those days we did not have schools, left alone universities or medical schools. So they were all educated in British Catholic schools in India and then went on to medical school there.
Catholic ?
Yes, yes –she laughs- there are lots of stories ! It took me a while to realize it ! The family is so big and we are all educated so I tought it was like that for everybody. Then I kind of thought « Well my dad's cousins are not really like that ! » My dad is in his 80's and most men that age in Dubai have not been formally educated and haven't gone to university. Most of them are self made businessmen. So my dad says it was really his mother -from Ras Al Kaima- who was the one who pushed them. My grandfather had a dhow, so he used to go between India, here, Iran and so they just carted everybody, wives, etc, off to Bombay. As Bombay was part of the British Empire, they went to British Catholic school (she bursts into laughters). Which is good. He learnt english and went on to medical school with his brothers and sisters. So the rest of the family, not only my generation but the one after me, is going into medicine. So that's not really much of a surprise. We are a very boring family !
On your website, you openly introduced yoirsefl as being married to an American TV journalist and being mother of two girls. Is that a way of giving confidence to your patients ?
I met my husband in Sharjah. He was covering the Iran-Irak war and was in the process of converting to Islam so it was convenient (she laughs). For me…
Did your parents like the idea ?
I am not sure they have still come around yet. It's only been 25 years ! Probably not their first choice, lets put it that way. But it's ok. And in fact, now that I've grown older, I start to appreciate the family. When you're young, you tend to judge the family. But as you get older you start appreciating who you are and how you are is because of them. When I meet some of the other local women, I am just astounded by the battles that they have to fight. We have our own battles to fight but for me it was more professionally then in the family. I grew up in a family where I did not know that you actually had a choice, that you did not have to go to university and study. That was a given that you had to go. Everybody did. And now I tell my dad « But, hang on, there are all these people having coffee in the morning, capuccinos ! How come you did not tell me there was an alternative ! » (she laughs). Luckily I did not have to fight that but I do meet other women here who lead that battle. They have to fight to be educated or to be aloud to go away to study whatever it is they want to study. Still now.
What are the other battles women still have to fight here?
That is a big battle. Slightly better now because we have a lot of universities right here. Many international universities have a branche in Dubai or Abu Dhabi, which has made it much easier for these women whose family would never consider letting them go. Perhaps you don't get educated in the same way as when you go away. Going abroad is a different education : it's not just what you study, it's that whole learning experience ; to be with other people ; independence ; cook ; clean. I never cooked in my father's house and then I found myself in the middle of nowhere. Gotta eat ! There is so many Mc Donalds you can eat !
So where did you study ?
I got my main degree in Dublin.
Why Dublin ?
It was chosen for me. My GP and my dentist here were both Irish. They insisted. At the time they still had all the IRA problem and I remember my mother saying « No, no, bombs … » But they said that was in the North and the school was in Southern Ireland. My mother took a map and said « But that's close enough ! » It took a lot of convincing. Then I did another degree in Canada and another one in Texas.
Then you moved on to become a breast surgeon specialist ?
When I graduated from Dublin, I came back to Dubai. I graduated in surgical oncology so I did my internship at the Rashid Hospital. Then I went back to the UK to finish my surgery qualifications to be a general surgeon and specialised in surgical oncology and then breast.
Is cancer still taboo here ? People used to call it « that disease » out of fear they would catch it ?
This was not only here. When I was in Ireland, I remember as medical students, we were not aloud to say the « C » word in front of the patients. Even then it was still very much a kind of covered up thing. Here cancer is now so prevalent, there are all kinds of cancers. A local lady told me the other day « Cancer has become like a flu ». So when I told her « You have cancer » and asked her if she was surprised, she said « No, everybody's got it ». And that's true. It's the reality.
Are there more breast cancers here than in other parts of the world ?
We don't know.
I read that women would have it ten years younger than in Europe and as early as 17 years old ?
We dont really have good statistics to be honest because we don't have a cancer register. But what we do see is a trend which is similar to other countries in the Middle East and North Africa : women are getting breast cancer younger and they are getting particularly more aggressive types of cancer. And we don't know why.
Even the foreigners?
Yes. This is why we need the cancer register. Obviously the majority of people living in Dubai are foreign so it's really difficult to explain.
Are women particularly bashful about breast cancer here?
It waries. The young ones have so much access to information. And there has been a lot of awareness in the big cities. For older women who know it's there, some can't be bothered or think their time is up… I find it's getting easier to talk to them about it. I find people superstitious, who still think that if you say it, you'll get it or something like that. But because cancer has become so common, people are not shocked anymore.
Is awareness there ?
The awareness is there. The main problem that I face with my patients is that they are so young. These are women who are in the prime of their life. Their job, their careers, being moms and this is the time they are picking the cancers up. In France or the rest of Europe, 80% of breast cancers occur over the age of 50. Here, I am lucky if I see a 50 year old. Right now I've got two 28 year old. In their 30's, 40's… This is the thing I would now like to start looking at scientifically. As to why ? Because all the information we get from breast cancer come from countries where there is a lot of them and I am not sure we can take that information and put it here. For some reason we have something different, whether it's genetically. Are we more prone to it ? We do all the things we are supposed to do to minimise our chances : have our kids young, breast feed children –it's islamic to breast feed for two years-, not taking hormones. And we are still getting cancer and earlier than anybody else.
What has improved since your childhood here in general ?
It is completely different. Oh God ! I would come back to see my grandparents. From everthing : how they lived, quieter, slower. Now looking back that was probably nicer but I am saying that as an older person. In the 80's when I came back to work at the Rashid hospital, I was young and single. I found it boring. I wanted it to have more. Now it is certainly more : anything from culture, art etc. I can't believe how much we have now.
And on a woman's perspective ?
I really haven't had problems here in anyway. As I said, in my family it was just accepted that I was going to study. My mother, who got married as a teenager, is an extremely strong woman. You don't realize it until you grow up and looking back you think a lot depends on who brings you up. My mother's mantra was always « No is not possible, does not exist in my dictionnary ». You never say « No » to her, you never say « It is not possible ». Everything is possible. Depends on what you are willing to sacrifice to achieve it. She is still like that. She lives half the year in California ; she is an artist and is completely different. Now, even within my own country, when I said I wanted to do medicine I was on a government scholarship and nobody said « No you're a girl and you can't do it ». Despite the fact that surgery is historically and still is a male dominated field. They did not say « You better be a gynecologist or a pediatrician or something a bit more for women ». There was never any question. So I was very lucky I had the support the whole way. And even when I came back, there were no female surgeon cunsultant but there was not any problem because I think people realized that the need was there. So I would see patients who would prefer a woman to examine them eventhough I was at the lowest rank of the ladder. Obvioulsy when I became the first female surgeon in the UAE, there was only 2% women surgeons in the UK and 10% in America. So it's not like we were that far behind !
I can see why now. At the time I followed what I liked, my passion. It's not an easy road. It's not something I would want my children to do because it is long and tiring and you give up a big chunk of your life.
You have two daughters aged 6 and 8 ?
Yes but I had them in my 40's because for me it was impossible to do it all at the same time.
Would you say there is equality between men and women here ?
I have never experienced that you can't do this or you can't do that. Never. Even at home, when we meet as a family with all the uncles and aunts, we eat all together… Where it is very traditional to sit separate.
But you come from a very liberal family, it's quite rare ?
Very.
You are not covered ?
Yes and that's me. And there are women in the family who do. This is how I work. I can't cover and do what I do.
Did you ever wear it ?
No. Not regularly.
And your parents never forced you to ?
Not at all. I do have lots of aunts and cousins who do and that's fine. You do whetever you want. But for me it's cumbersome. I'm dealing with blood and guts.
One thing is your family and your personal choice but how does society react to it ?
Most of the people who wear sheila and abaya, do it more by tradition than by religion. You see them wearing it loose, with the hair. It is more a fashion thing. Those people do not have any problems. The people who do say things to me are the ones who wear the tight hijab and sometimes the niqab for religious matters. But in our religion you cannot force somebody to do it. They have to embrace it. That's why we embrace Islam. Nobody can force you to convert. Nobody can force you to cover. So it's fine. I always get around that.
What are the challenges lying ahead for women ?
My main thing and this is what I am trying to say to women, is that whatever it is they chose to do, it's not easy to get to the top. And we have a lot of other cultural issues that we have to deal with. Normally you join the line at the bottom and you work your way up to the top. The problem we have here, is that some of these girls who are really bright, who do well at university, join the line but there is the pressures to get married, to have a baby, their husband asking them to stay home, forbidding them to go off to work. Then that line ends. So this is the problem that we still haven't broken through. We have that drive ourselves to have it all but to keep going and not stoping, to ignore the outside influence, is still at stake. I became the first female surgeon but I was not the first to try and the problem is that people give in. That's why I had my kids late. In any field I see people starting off and then break away. And that kind of upsets me a little bit.
What other problem to do you witness ?
They have the support. Women usually can't break away because they need to be on that job line anyway. But here, if the husband says « You don't need to work, I make enough money to take care of you », plus they get a house or whatever that's given by the governement… They don't push it as hard as they could. And that's what I find is lacking. And it's not that anybody is stopping them, given all the opportunities they are given in this country, by law. It's not that we're living in Iran where there is a list of jobs that women are not aloud to do. We don't have this here. Everything is open for us. But I would like to see that passion. This girl today asked me for a sick leave for two days because she is pregnant. I said « Why do you want me to give you a sick leave ? ». « I want to to rest ». I operated in the morning and I delivered in the afternoon. Pregnancy is not a sickness, she is just having a baby. I get upset when I see that. Because that just tells me that they are not enjoying their job, they are not somewhere they feel a real passion for the work. Like everything else, I know a lot of people in our country who want the government jobs and I'd rather see a woman take a job that they love, that they can really see that they can make a differenece in and work towards it. It's not always the nice good coushy government job with all the perks that you get. Because I think that in the end it's gonna show. If I'm good at something and I do this for my country than it will show rather than if I am just doing my job 9 to 5.
Do you speak arabic at home ?
Very badly. My daughters need arabic tuition. This is a problem.
Did you have a traiditional mariage ?
We did ! A three day ! (she laughs)
That must have been something for your husband !?
No because he lived in the East for a long time. In and out because of his job he's lived in India, Pakistan, Afghanistan, Lebanon, Iran, where the wars were. In fact he knows the country better than I do sometimes, and the religion definitely better than I do. When you are brought up in something you take it for granted. As he had to study, he really got into it. He had that nice East–West mix, that I had as well. I am from here but spent a lot of my life outside. So he was kind of the reverse from the West.
Dr Houriya Kazim founded the Well Woman Clinic
www.wellwomanclinic.com