« Being a role model is very important to me »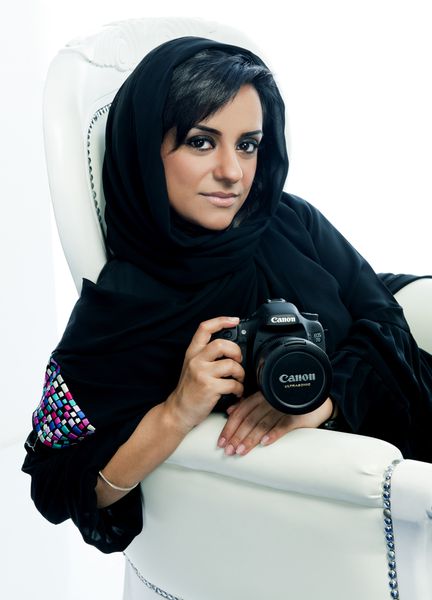 UAE film director and producer of her own company D-Seven, Nayla Al Khaja talks about her last film for Soul of Dubai and the ups and downs of her daring career in the local film industry. She says if there isn't complete freedom yet, it is already the most progressive one of the Middle East. INTERVIEW.
Is it because of the lack of producers here that you needed to start your own production company ?
Yes. I love business and the creative world as well, so I like to combine both. It just came as a very natural thing to me to start my own company. I used to freelance under a proper licence from the Economic Department in Dubai at 21. I have always had that entrepreneur side and have always been raising money for artistic initiatives. So I knew I had a nack for closing deals, negociations etc.
You started in radio ?
My first job was a Radio Jockey. I also worked in the marketing department so I was able to get two sponsors for my show. Then, the marketing department wanted me! But I liked the entertainment si I did both. I did that for one year because I had to travel to Toronto. I had to repeat university from scratch because I never had the opportunity to study overseas because of my gender. I studied here initiatially.
Because of your gender ? Can you explain ?
Because my parents were against me travelling on my own without my husband or an uncle… I studied at Women's College because it was either that or home. After that, I had a gap here before going to Toronto. And they were still not happy that I travelled, so I got married.
So you got married to study abroad?
Correct. After six days of dropping me, my « husband » and I had a little bit of arguing over his role, providing me with an education.
So you divorced basically ?
Yes. We are still good friends.
What is the relationship with your parents since you started your career on an argument ?
I was the first woman in the field back then. It's almost like the first woman driving a car in the 60's : everybody would look at you. So in my field, my parents did not know what to make of it. They were worried : filmmaking can be dark, an underground side, lots of parties. They thought I was going on the dark side…
You were under the spotlights as well ?
Exactly. It means I am exposed all the times. If I do something naughty, I'll be exposed. Here it is very tribal so it's always about family reputation. So they have a lot of fears.
You also deal with controversial subjects in your films ?
My first film was just a documentary called Unveiling Dubai. Not controversial, just a student film. I wanted to show Dubai through the eyes of another film maker and myself. So it was ok. The government liked it and it opened a lot of doors for me for what I really wanted to do. My second project, Arabana, was about pedophilia, child abuse. So I shot that and it was my first narrative film on 35 mm. A really nice experience. And to work with actors…
Why did you want to tackle such a taboo issue ?
Because it was based on my own story. When I was very young I was in a situation where I was not abused but I came very close to it and I remember the feeling of it, the fear. I wanted to capture that emotion. After I did the film, we showed it in many organisations especially women's and they started talking about their own personal experiences as kids. Some started crying because they had never opened up before. So I think films can do that sometimes.
It gets a lot of courage to tell such an intimate story publicly ?
It really helped. Making the film made me feel better. I overcome my fear from when I was 7. Some women talked about their problems. That was nice. The film was amazing. Not the film itself but what it did : money was raised for the actress' education. She could not afford it. I am a big actor in women's education. I really believe in it, big time. Because I was also denied it. People should not be doing that. People should not be pushed in a situation where they have to marry someone to get education. It's wrong.
Is pedophilia and child abuse a common thing here ?
No it is a global issue. I made research and I found out that the architecture of a house is an important factor. If a house is big, even if you are good at monitoring your kids, if people work around, the chances can be very high. In this film that's what happened. The girl lives in a huge villa where the backyard is massive. It makes it difficult for the parents to see what's happening.
You dealt with censorship ? How does it work here ?
You need to give your scripts to the Media Council. From ten years to today things have really improved in terms of approval. It is more flexible, less strict. I would not have been able to shoot things that I show now. That's a progress which is directly linked to lots of film festivals being shown in the Middle East. A lot of these film festivals are not censored so that has helped film awareness in the country and respecting the artist's voice. Yes we don't have a complete freedom but for the Middle East I think we are the most progressive.
What was the reaction of the public and the people around you to the film?
I received some very negative comments but it's okay because people have different opinions. Some from my own community saying that I should get out forever. Because as a filmmaker, I should not be doing this. But this is only 10, even less, 5% of the people. The big majority, especially men, which is surprising, are very supportive. Most supports come from guies. My fellow film makers are men. And my number one support is my brother. He really pushes me like crazy.
What is your family background ?
Both my parents are entrepreneurs. My mom ran a school but she sold it and is now in property business. My father won best company of the year in the media field. He is an agent for hospital beds.
You received an waward for best entrepreneur as well. Do you walk in the footprints of your father ?
I received awards, my company received awards, which is nice because it's always team work in film. So I take pride in having a really good team.
Do you write the scenarios ?
The shorts yes, but in documentary treatment and features I take a writer.
Do you have the ambition of educating people, raising awareness on certain subjects ?
It is extremely key. I have an agenda this year where I am going to visit schools. I was at three different schools last month and taught children how to find their voice through film or any art medium, music, dance, painting. Just to give them self confidence during training and workshops. It is part of my giving back to communities. For me the award is good but the best thing ever is when I get an email from a 16 year old girl telling me she wants to follow my steps, using me as an example for her family. Voilà, I did my job. It is going back to the next generation. Being a role model is very important for me. Show myself in a good light because I want people to be influenced.
I saw pictures of you with George Clooney, Sharon Stone etc… How do stay down to earth ?
It's the love for people, humanity and love for the earth. At the end of the day, we will all be buried underground and life is too short to be arrogant. You get more out of life when you're connected to people. And as an artist your emotions are hightened to the delicate fabrics of life. Am I under a mud hut in Africa today, or in a palace tomorrow, it is very exciting and you get to really experience life because you appreciate the small details which create the big picture. You cannot spread love if you're arrogant. It goes against the whole concept of togetherness.
Regarding fundings, does the government help local productions ?
I think that they are changing that now. I heard that the agenda is to put the money here. The film I am shooting in two weeks is commissioned by Dubai Culture which is great. It is important because it will create an economy, support for the artists. If we make ten films and one gets into Cannes or one of the big festivals, these film makers are ambassadors for the country. I go to all of these film festivals and there is never a film from my country.
Films can tell the story of the country in a unique way, leaving a print in a very oral tradition ?
Yes, the film is the best medium. You capture, it's mobile, it travels the world, it stays, you can make hundreds of copies. The revolution of film has made it easier for the people to grasp their own stories. And now it's even better because if you don't get distributed through the traditional channels, there are on line alternatives.
What is your current project about ?
It's part of a theme called Soul of Dubai. Ali Mustafa (City of Life), another director and I, each of us have a different story. Mine is called the Neighbour. I wrote it and proposed it. We all shot a 15 minutes film. Mine is about a new expat girl in Dubai who interacts with her local neighbour who is an old woman. The dialogue is funny because the woman who speaks english cannot speak arabic and the woman who speaks arabic cannot speak english and the only one who translates is a child and it's always wrong.
Who do look up to as far as directing goes ?
I like Lars Von Trier. I like dark films. I love Kubrik : he's my number one heroe. From the more commercial cinema, I also like Clint Eastwood. He's a one man package : directs, produces. As women I really like Mira Neer and Deepa Metha.
What challenges women still have to fight here ?
Access to education overseas. There is nothing against it in the law but it's a family to family decision. Because of their gender, a lot of girls are deprived from an international education. We do have schools but it's a different world to do it elsewhere. The second one would be timings. In my field you work very late and lots of families dont' let girls go out later than 10pm. It can disrupt your life style of working. Single women here still live with their parents even if they are old ! Even guies actually which is good. At least, it's equal !
Tell us about Once, your film tackling the issue of Emirati women dating in secret ?
Dating is against the concept of our tradition. When women reach a certain age, they are obviously attracted to the other sex because there is a lot of coexistence of gender on the country. It is not segregated anymore, so it's very tempting to have a partner. You have emotions. You see your expat girlfriends doing it and you want to do the same. So what's happening is that you find other ways of communicating with the other gender : through the telephone. And it leads to a date. So that's the film : the journey of a gilr going on a date. For me it's like a horror movie. Because if I had to go on a date, I would have to do so much lying that's it's exhausting. You have to cover your face, lie to your parents, get in a taxi, get in a mall, get picked by a guy, and you just spoke on the phone so you don't even know if he's going to be reliable. It's dangerous and if something happens, you cannot tell your parents. IIt is very dangerous. So the films says « Be careful ». I refuse to date secretely. I date publicly so it's fine.
What were the reactions to the movie ?
Because it has an open ending, people took two different perspectives. One was « Great you will scare girls from doing it ». The other was « You are encouraging them ». For me it wasn't either or, it was just depicting what it is like. I wanted to document what happens. There's a chance that it could have been very dangerous for the girl and for different reasons : if she gets caught by the family, if the boyfriends turns out to be a really horrible person and molests her… So there are a lot of dangers to it.
BIO
Nayla is the founder and Director of D-SEVEN Motion Pictures and UAE's first female film Producer/Director. Her aim is to produce a slate of feature films in the Middle East.
Nayla has produced and directed four films namely: Unveiling Dubai (2004), Arabana (2006), Once (2009) and Malal (2010).
Her accolades include: 'Best Emirati Filmmaker' at the Dubai International Film Festival in 2007, 'Emirates Woman of the Year' in 2005, and 'The Youngest Entrepreneur' of the year in 2005 at the Global Businesswomen & Leader's Summit Awards. She has served as an official juror in the feature film program headed by Abbas Kiarostami at the Middle East Film Festival in 2009 and was a jury member at the 2010 International Emmy Awards. Moreover, Nayla is currently a proud ambassador of CANON Middle East, a global leader in digital imaging products. She was announced among the top 50 most powerful personalities in Arab cinema (source: Variety Arabia, 13 Dec 2011)