« As CEO of DEPE I am another proof that women can lead »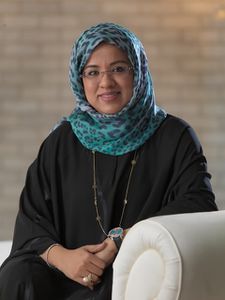 Laila Mohamed Suhail is the young CEO of the Dubai Events and Promotions Establishments (DEPE). From her office, she sets the tempo event of a city that has earned the reputation of being one of, if not THE most run shopping destination in the world. INTERVIEW.
Tell us about the Dubai Shopping Festival (DSF) and the Dubai Events and Promotions Establishments (DEPE) ?
The DSF was launched in 1995 by Sheikh Mohammed and the first event took place a year later. We used to be an office. It is the major city Festival of Dubai. We work as an organization falicitating that. In 1998, we launched Dubai Summer Surprises (DSS), the second city festival. It was a major impact in terms of visitors. In 2008, we then proceeded with Eid in Dubai and Ramadan in Dubai. In 2009, a new decree was passed by our Ruler to change the mandate of the DSF office to be known as the Dubai Events and Promotions Establishments (DEPE). We received a new assignment to work on a calendar of events, as a platform to facilitate the organization of all events in Dubai. I am the CEO of DEPE.
May I ask how old you are to be in charge of these highly successful festivals in a city like Dubai, one of the favorite shopping destinations in the world ?
I am 36 years old.
How did all this happened ?
I started with DSF as the Sponsorship Coordinator in 1995. I was then employee of the government for the Department of Economic Development. I have grown to Sponsor Manager in 2000, Chief Marketing officer in 2004 and promoted Chief Executive Officer of DSF in 2008. First I accumulated exeperience with the organization which associated us from the beginning. The scope and the nature of it is too vibrant and active so while organizing you interact with the private sector, the government, the media. It gives you a huge amount of experience and knowledge. In have been involved in 32 city festivals : 17 years for the DSF and 15 years for the DSS. I was involved with these events from inception.
How did you build this career being a woman ?
As Emirati women, we receive great support from our leaders especially Sheikh Mohammed. He is always encouraging women leadership. I am also heading the Dubai Sports Comittee headed by the Crown Prince who has great belief in sports. So even there we have good support.
Whose idea was it to launch the DSF ?
His highness.
You seem passionate about your job ?
I am passionate, yes. It is a very unique sector where you interact with different stakeholders, with different sectors of the city, different people. Organizing events in a city like Dubai you get to interact with so many different nationalities.
Ambitious ?
I am passionate, I love my job. I love the events sector and I am also a creative person. I like to think of new ideas. I love challenges. Marketing is my passion.
What better canvas than Dubai ?
Dubai is a reality where ideas come to life, a place where dreams come true. In the last 15 years we have seen Dubai Marina, Downtown, Burj Khalifa, Dubai Mall. All these visions, we feel them every day. Ideas are realized here. It pushes you to be creative when you see the results.
How many visitors DSF attracted in the beginning and now ?
We started with a million plus visitors and we had 4,6 million in 2012. We had 15 malls and today there are more than 50. We had 1000 retail brands and there are more than 6000 retail outlets participating in sales and discount now.
What is the secret or the reason for such a success ?
Our communication with the sectors. The most exciting part is that we all work together the government and the private sector. There are lots of synergies. This is the reason for our success in Dubai. People from abroad ask us « how do you make it happen ? » It's this relationship, the team work, supporting each other. They sponsor our events, we involve them in our activities, we give feedback, we consult them, we support them, we make their business easier.
As a brand specialist, you would say Dubai is the best brand to work for ?
Definitely.
Why is it important for the brands to be part of DSF ?
DSF is one of the strongest season for retailing. They plan promotions and activities in advance.
Tell us about your background ?
I have a diploma from London City College for Processing and Programing. I am now doing via Internet a Masters in Programing with the Chartered Institute of Marketing (CIM).
How did you convince the sponsors in the region and overseas ?
That this is a city where dreams become reality. People believe that in Dubai. So the private sector believed in the city and its leadership who built Dubai as a brand and believed in this brand. The retailers feel the benefits of the festivals and see the increase in visitors.
What is your next challenge ?
Dubai has been growing tremendously. When DSF was launched in 1996, the city was different. Today it needs more and more activities, expectations are very high from the government and the public. So they look for us to reinvent and rejuvenate the festivals.
What are you most proud of ?
Being involved with a unique sector which supports the economy and the growth of the city. I am proud of being involved in the events sector and being associated with the brands DSF and DSS. I did 18 DSF, 16 DSS and 8 Eids !
How many employees do you manage ?
65 in all DEPE structure.
How is it to manage men as a woman ?
We are blessed in this county to have a government which believes in woman and our capabilities. Though here in the Middle East we live in a "man's" world, our government recognized the potentials in us. Nowadays the percentage of women in leading roles within the government has raised and is raising. I think DEPE is another proof that women can lead and I have been doing this for quite some time now. I have started as a joiner staff 18 years ago with DSF and now I head a professional team that managed to deliver renowned festivals with international recognition.
Are you married ?
No but I have a big family with eight borthers and sisters and my mother. My father passed away last year. I spend time with my sisters' kids.
In which field did your parents work?
My father was a customs employee and my mother a housewife.
They must be proud of you ?
They are. Their prayers at home, that's what helpd us going also.
Can you imagine, your mother in your place forty years ago ?
We are a 41 year old country. All of us are very proud of the achievements of our country. Such a huge development and growth in such a short period of time.
What is your relationship with Sheikh Mohammed ?
I have seen him a lot of times. Despite all his responsibilities, he always treats you as if he was close to you and encourages you to do more, encourages the leadership team.
What are the main qualities he has, that comes first to your mind ?
He is a true leader. A man who can make dreams come true and a loving father : he deals with us as if we were his kids.
It is not the only time I hear that and such a relationship is very particular to Dubai ?
We are very emotional as a people.
What do you want to become as a young girl ?
So many things. A doctor, an engineer.
What would you say to young women who wish to start a career ?
I say we are blessed to be born in the UAE and in this country we have great opportunities. All it requires is passion and hard work and we can achieve .
What are your best shopping places in the world ?
London, New York, Hong Kong, Singapour. I shop everywhere. I am a shopoholic !
The best shopping place in Dubai ?
Everywhere.
For more information :
The Dubaï Shopping Festival ends February 3rd 2013
Dubai Shopping Festival 1996 – 2011
Facts & Figures
• The longest running festival of its kind in the world (18 years)
• Total number of visitors reached 50 million
• Total spending reached AED 88 Billion
• Value of prizes reached AED 1.4 Billion
• More than 40 activities recorded in the Guinness Book of Records
Year Visitors Total Spend
1996 1,6 million AED 2,15 Billion
2010 3.5 million AED 10 Billion
2011 3.98 million AED 15.1 Billion
2012 4.36 million AED 14.7 Billion